Hey Party Peeps!
Fall is in full swing which also means your schedule is probably getting pretty full. The last thing you have time for is spending an hour putting together a dessert for your dinner party, small group or your family.
Have no fear, Parties for Pennies is here! :p I've got a delicious fall apple dessert that takes 5 minutes to make. Seriously. That's not the "Rachel Ray 30 minute meals that take hour once you collect all the ingredients" 5 minutes.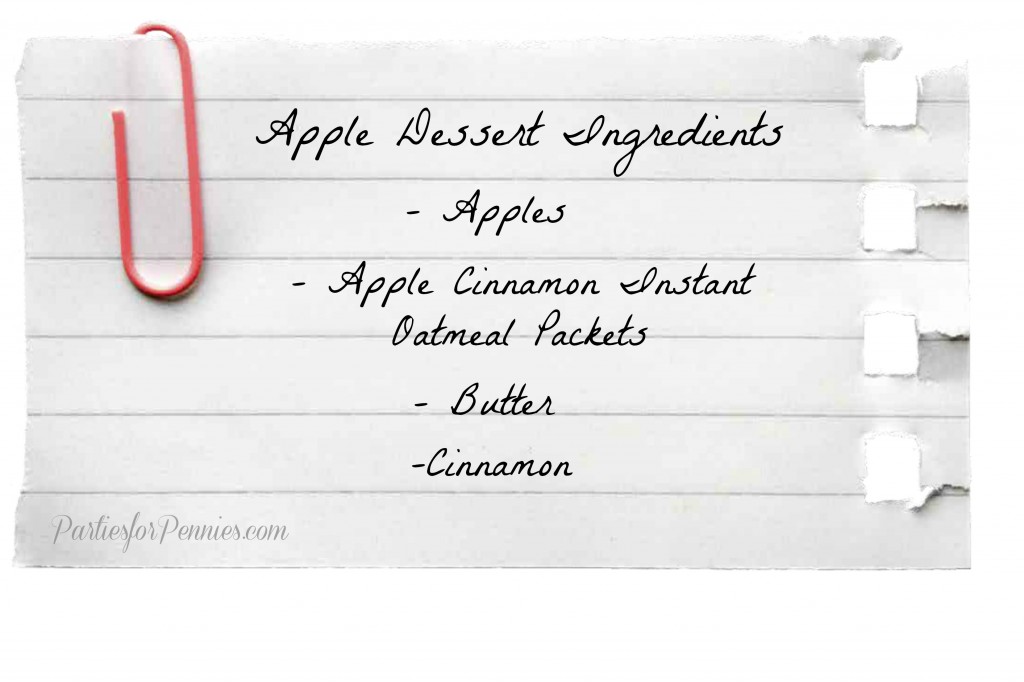 This is what you need to gather. I used Gala apples but you can use whatever apples you like. I also peeled mine but you could leave the skin on if you'd like. (The peeling makes it a tad longer than 5 minutes but not much longer at all, if you use a peeler)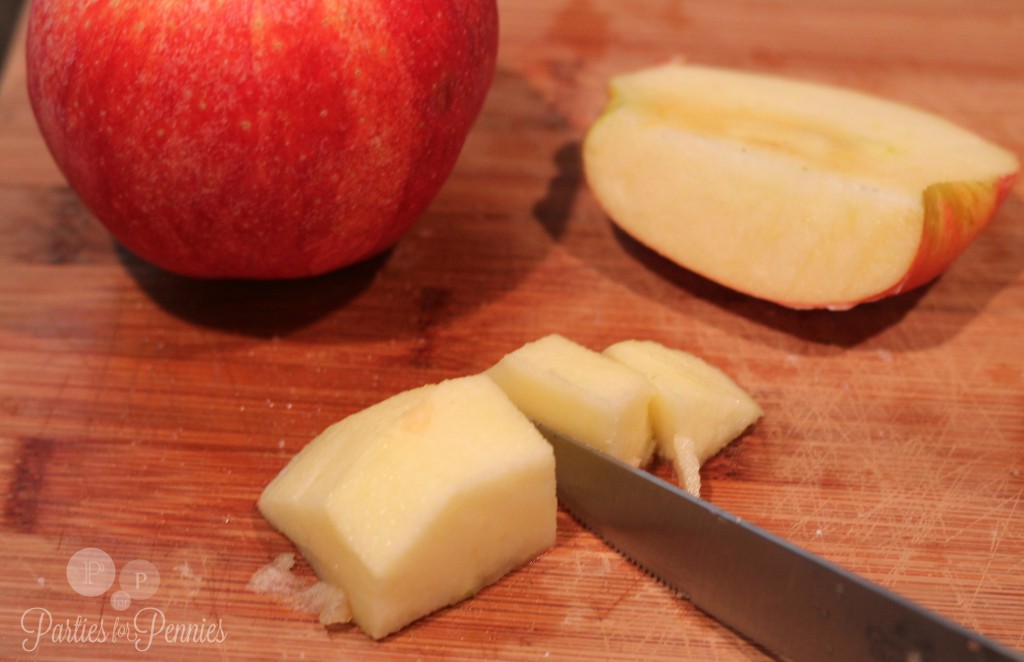 First of all, add a few pieces of butter to whatever pan you're using. I used small ramekins but you can do this in a 9×10 glass baking dish as well. Secondly, cut up your apples into bite size pieces. I used 1 apple for two ramekins but if you're doing a 9×10 glass dish I'd use at least 5-6 apples.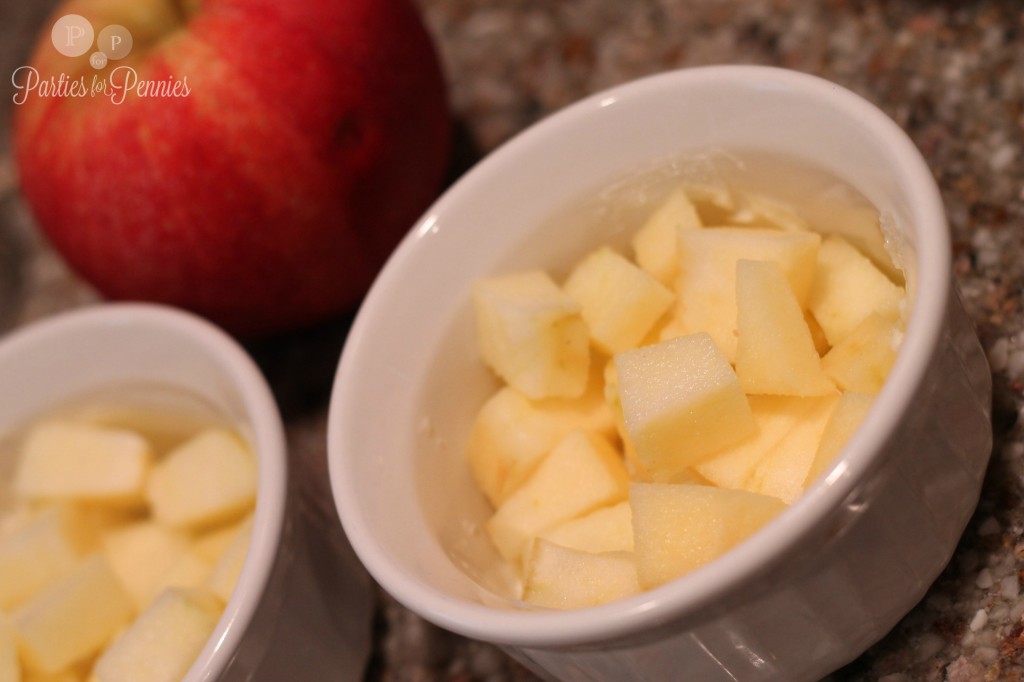 Add your apples to your pan. Cut up a few pieces of butter & spread over the top. I also dusted the apples & butter with cinnamon.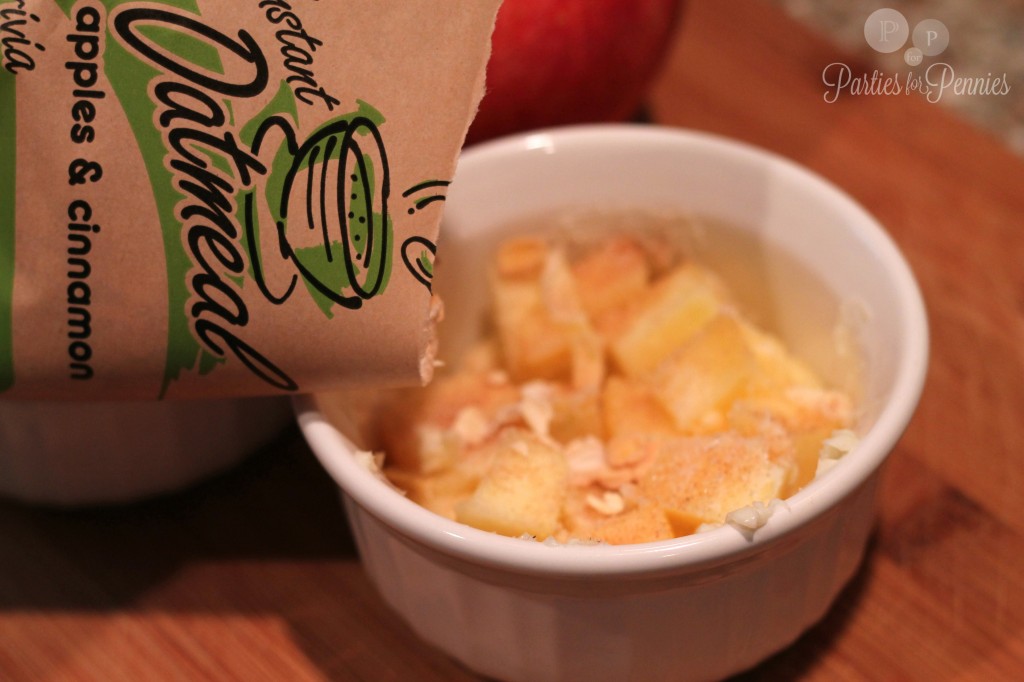 (Side tip: I have a cinnamon sugar mix stocked in my cabinet so I added that on the top of the apples & butter…it's up to how sweet you want it to be)
Pour the packets of an entire box of apple cinnamon instant oatmeal on top, if you're using a 9×10 pan. If you're using ramekins or smaller dishes, it's up to your discretion but I used one packet for two ramekins.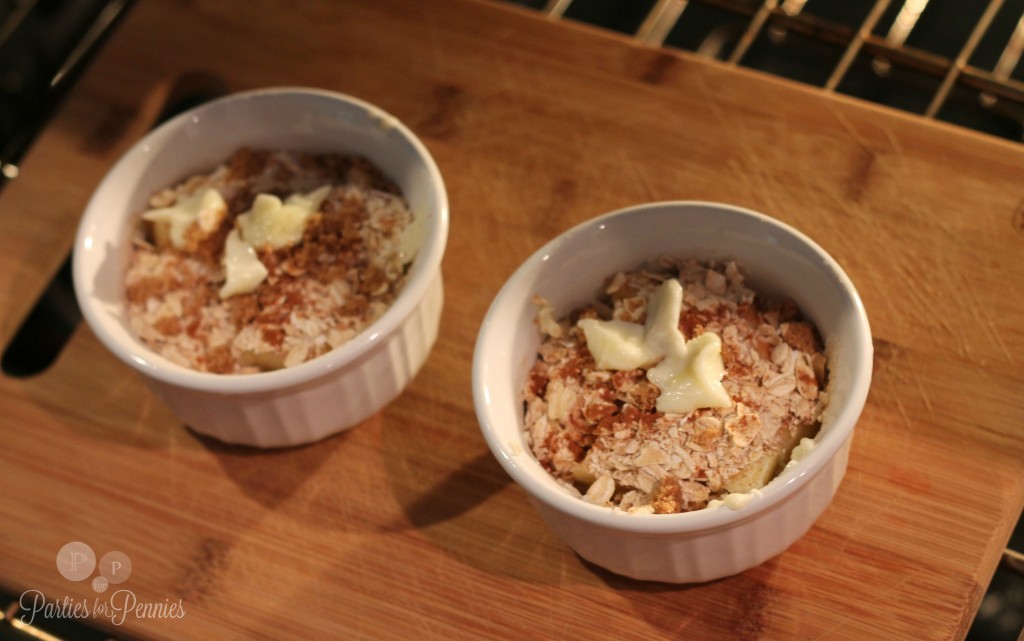 I then added a tiny bit more butter & a sprinkle of cinnamon & sugar.
Bake for 30-40 minutes at 350 degrees.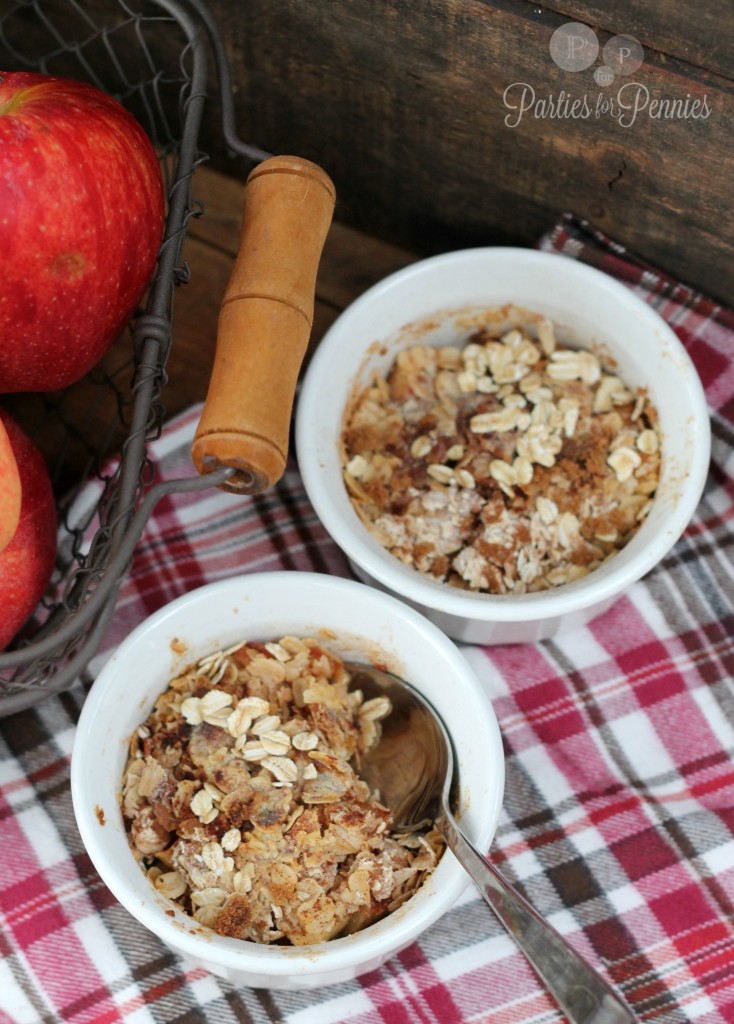 When it's done, you'll have an awesome smelling house, clean countertops & a delicious apple dessert.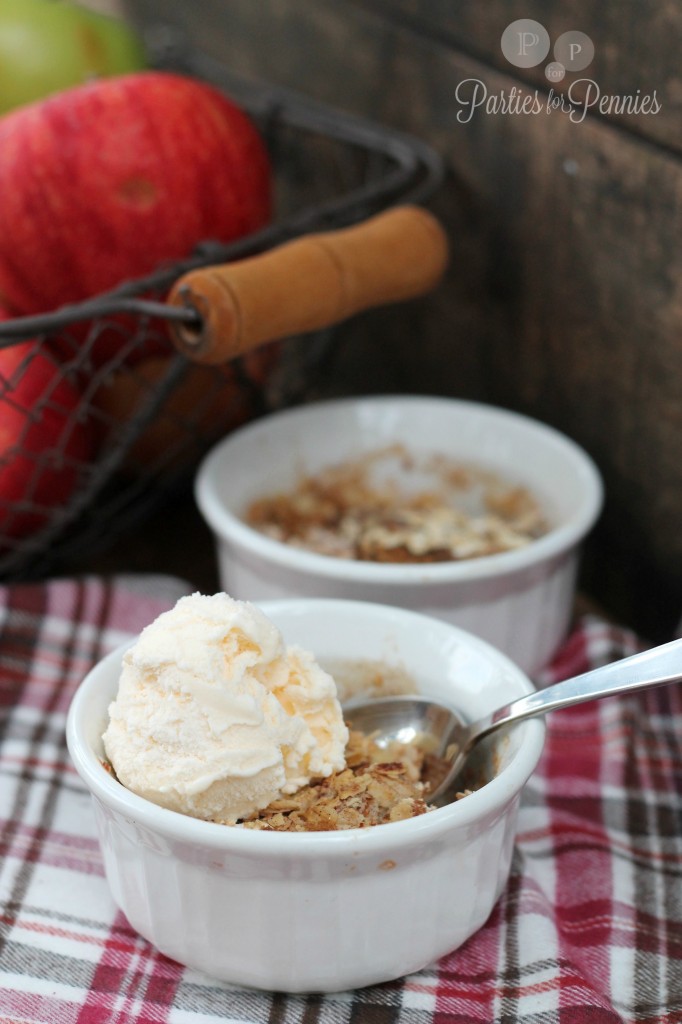 Of course, a scoop of ice cream on top would create the perfect party….in your mouth! ;p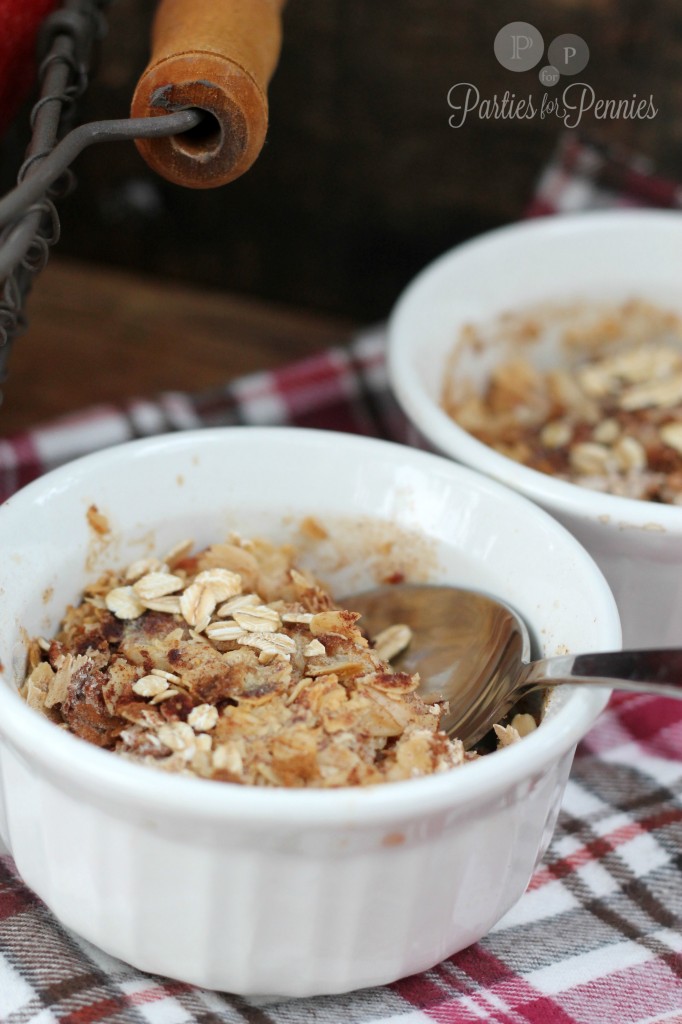 There's something about being able to create a great dessert/entree/whatever that tastes delicious but doesn't cause a huge kitchen mess. It makes you feel like you can enjoy it without feeling like all you want to do is stand by the air conditioner & take a nap! ;p
I can't wait for next week on Parties for Pennies! It's going to be an interactive week. I'm helping my sister with her wedding (she's getting married in April) and she asked me to come up with some centerpiece ideas. I'm going to do a mock-up of the ideas, post them here on the blog & let YOU give me your feedback! You can tell me which one you think Meg should use!
Hope you have an awesome week! Gotta go chow down on some apple dessert!


---
Used with permission -
http://partiesforpennies.com/